Conversion Conference London
Business Design Center London, 27-28 November 2012
Bronze Sponsors
Optimizely is the world's leader in customer experience optimization, allowing businesses to dramatically drive up the value of their digital products, commerce and campaigns through its best in class experimentation software platform. By replacing digital guesswork with evidence-based results, Optimizely enables product and marketing professionals to accelerate innovation, lower the risk of new features, and drive up the return on investment from digital by up to 10X. Over 26 of the Fortune 100 companies choose Optimizely to power their global digital experiences. Optimizely's impressive customer list includes eBay, FOX, IBM, The New York Times and many more global enterprises. To learn more, visit optimizely.com.
Whisk is an online shopping list that allows users to purchase the ingredients for any recipe they find on the internet via online supermarkets with a few clicks.
Booking.com is growing rapidly and so is our IT department! We are looking for strong E-commerce Product Owners to join our growing and dynamic team in Amsterdam. With over 245,000 properties on our website and more than 70 offices worldwide, we are the biggest hotel reservations website in the world.

Are you:
• An E-commerce specialist
• Data driven with an ability to prioritize
• Able to optimize customer experience for conversion and loyalty
If you want to work in an international, result-driven, fun and dynamic work environment in the center of Amsterdam, apply now and join the team!
Partners
The Lost Marketing Press is their marketing blog that has just been relaunched. It is another content project from The Lost Agency a web analytics focused search agency.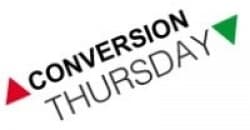 Conversion Thursday
Visibility Magazine, founded in 2007, has become the guide to latest trends in internet marketing. Visibility conducts interviews with CEOs, shares opinions, reviews products, and provides a wealth of information about the movements in the industry. Additionally, Visibility will reach many fringe businesses that may have been contemplating entering or expanding their Internet marketing campaigns. Visibility is published quarterly and covers a wide range of topics including, but not limited to, organic optimization, pay-per-click marketing, website analytics, affiliate marketing, and press release distribution. Visibility embodies high-quality content, good sense, superior taste, and the character of conscientious journalism.
The independent authority on search vendors, topseos.com, evaluates and ranks the top internet marketing companies. Categories ranked by topseos include: search engine optimization, pay per click management, affiliate marketing, social media optimization, and many more. Since 2002, topseos has been a trusted resource for businesses looking to launch or improve internet marketing campaigns. The pathfinder service allows topseos to work directly with you to help find companies that best fit your business needs. Why waste time searching through thousands of sites with false promises? Go straight to the authority, gain insight into the industry, and work with the best.
The Chinwag community is a focal point for digital media practitioners in the UK and beyond. Founded in 1996, it has grown into a community media company that publishes websites, discussion forums and blogs, supporting the people and companies who work in the digital industry. In addition, Chinwag runs Chinwag Jobs (
http://jobs.chinwag.com
) the leading recruitment website for digital marketing, media, technical and design positions. In February 2007 the Chinwag Live (
http://chinwag.com/live
) events series launched, topical panel discussions that have also gone on tour around the UK. Since July 2008, Chinwag have worked closely with the UK Trade & Investment in organising the Digital Mission series, which help UK digital SME's to expand their businesses abroad, forge partnerships with US companies and seek investment from overseas.
http://chinwag.com
http://jobs.chinwag.com
http://digital-mission.org
SiteVisibility brings a team of SEO, PPC, social media, strategy, technical and R&D boffins together to create flexible, future-proof and truly integrated digital marketing campaigns that deliver better results from sensible budgets. For more information visit www.sitevisibility.co.uk
State of Search
is one of the leading websites when it comes to search and social media. The website, founded by Bas van den Beld, focusses on the next step in search marketing and social media. The web is changing and so is search. What consequences do these changes have and how do we handle these? Those are questions answered on StateofSearch.com. State of Search covers prides itself on covering events like SMX/eMetrics to give full coverage of the sessions throughout the day. Besides the live blogging of sessions, State of Search also talks to speakers and visitors and provides podcasts, video casts and more to give you a full insight on the event. Stateofsearch.com is a proud Media Partner of SMX Stockholm/eMetrics Stockholm. You can find out more about State of Search here -
http://www.stateofsearch.com
.
The Marketingblog Wordpress site and newsletter - definitive, exciting, entertaining and endlessly practical. It is the main UK 'silver bullet' to increase your online influence and awareness - and achieve new business. Call Will Corry 01784 434 412 or email
email hidden; JavaScript is required
The Drum is the leading news resource for the digital, media and marketing industry. Our team of reporters update
www.thedrum.co.uk
each day with up-to-the-minute news and features and we publish a fortnightly magazine packed with analysis, insight and comment. While the digital sector has become something we cover on a daily basis, it has also become an essential part of how we break stories and reach our readers. The Drum website attracted 2.4m unique users in 2011 and we are now the best read B2B media and marketing website in the UK according to Google AdWords. We also run the Dadi Awards which reward the leading communicators and campaigns in the digital sector–
www.dadiawards.com
To find out more and to receive the latest industry news visit
www.thedrum.co.uk
.
StrategyEye Digital Media is a comprehensive intelligence platform used by senior executives at almost all major media, telecoms, tech and advisory firms globally.